MEDIA RELEASE                                                                          April 2020
CWA members put 'virtual' scones on menu to help keep assistance flowing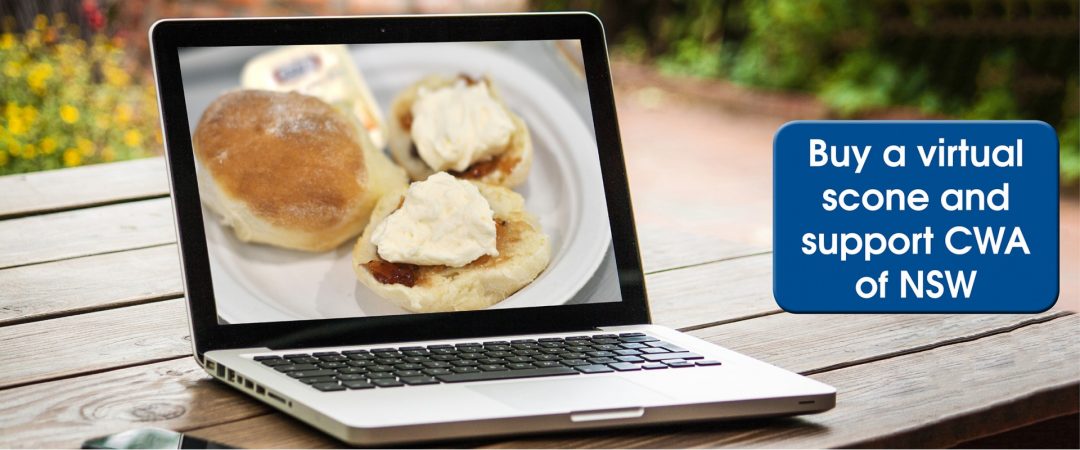 This time each year, CWA of NSW members from across the state are preparing to volunteer at the CWA Tea Room at the Royal Easter Show, but with no show this year, the branches of the Central Coast, Northumberland Group of the CWA of NSW, are urging the community to get behind an alternative fundraising opportunity, with a very 21st century feel.
The CWA of NSW has run the Tea Room at the Royal Easter Show for more than 70 years, raising on average in recent years $150,000 from the sale of about 50,000 scones, tea, coffee and products made by members. However, when the decision was made to cancel the show earlier last month as part of control measures around Coronavirus, the organisation started to think of some ways to help bridge the funding gap and came up with the 'virtual scone'.
"There's no doubt the show's cancellation was an enormous disappointment and not only from a fundraising perspective. The Easter Show Tea Room is a big part of our heritage and this year would have been our 73rd year in running it. Hundreds of volunteers from across the state, and from our area, assist over the two weeks the Tea Room is operational each year," said Beverly Britton, president of the Northumberland Group. "Obviously it's also a big disappointment for show-goers, too, and the organisers who work so hard to stage the event each year.
"But, at the moment all of our lives have had to change and we are adapting along with everyone else. So, with technology playing such a huge role in helping us make the changes required, we decided to use it to our advantage and are now offering people the chance to buy a 'virtual scone' from the CWA of NSW website, or even a whole 'virtual' Devonshire Tea."
From today ((FRIDAY APRIL 3, 2020)), when the 2020 Royal Easter Show was to have opened its gates, people can go onto the CWA of NSW's online shop and purchase a plate of 'virtual scones' for $5, a 'Devonshire Tea' for $10, a dozen plain 'virtual scones' for $20 and a whole batch of cyber delicacies for $50.
Anyone who makes a donation in this way will receive a PDF copy of the CWA of NSW's famous scone recipe to try their hand at home at whipping up some of these much-loved treats – a great activity for those who will be spending Easter at home rather than enjoying a day out at the Show.
"It's certainly not the same as visiting our famous Tea Room and enjoying morning tea, but this year – more than ever perhaps – we have to find new ways to fundraise because the assistance offered by our organisation and members is just so important right now. We are helping communities and individuals still feeling the impact of drought, those left reeling after the bushfires and now the whole of our state is facing the enormous challenges associated with COVID-19, Mrs Britton  said.
"2020 is going to be enormously difficult for everyone, but with the ongoing generosity of our community, and with the small purchase of a 'virtual' CWA scone, we can ensure the CWA of NSW grant schemes and assistance programs continue to deliver where they're most needed across our local area."
To purchase a 'virtual' sweet treat and scone recipe, go to https://shop.cwaofnsw.org.au/